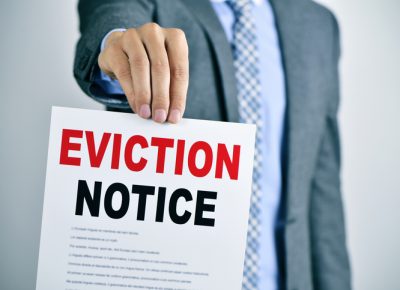 If you are experiencing troubles with problem tenants and want to know all of your options, try reaching out to Connection Property Management. We have years of experience in dealing with South Jersey evictions and lockouts, and we're prepared for the legal challenges involved.
Evicting and locking out a tenant is often one of the biggest challenges for a property owner. But in many cases, you may not have a choice. If a tenant refuses to pay rent for a number of months, repeatedly behaves in a disorderly way, or damages the property, you often have to make the move to evict them from the property.
Evicting a tenant involves a detailed legal process. For a resident to be evicted, it must be approved through a Special Civil Part Officer. For this order, the landlord is required to file a lawsuit in a Superior Court, and get a judgment for possession from the court. If a tenant chooses to, they can challenge the eviction ruling in a county court.
A landlord must also provide written notice to the tenant in matters of disorderly behavior or property damage; New Jersey law will give a tenant a month to stop the behavior before a landlord can pursue an eviction.
Evictions and lockouts can be among the most stressful tasks for a property owner, and the legal process to be followed is detailed and can be complicated. Don't take risks with your property investment…leave the task of evicting problem tenants to professionals who can get it done right and relieve you of the financial and legal burden.
Your Experienced South Jersey Evictions and Lockouts Connection
Save yourself the headaches and let Connection handle the process of eviction and lockout. Our in-house South Jersey evictions and lockouts attorney will file the motion within 24 hours, and we'll oversee the entire process, including attending the hearing. We will keep you informed every step of the way, and help make the eviction process as quick and painless as possible.
Reach out to us today to find out more about how we can handle your property management needs, including the most challenging parts of the process. We will make sure that your rights as a property owner are protected, and that you will be ready for any legal challenges.